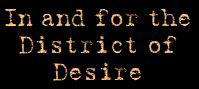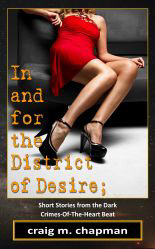 Bite-size and longer stories that reach those hard-to-get-at spots we didn't know we had
In eBook everywhere & paperback on Amazon
WHAT'S BLACK & WHITE & READ ALL OVER?

This season it's bound to be C.M. Chapman's In and For the District of Desire, a fully loaded docket of stories that cover the crimes-of-the-heart beat from Juvie to Special Victims.

From loss of innocence on the streets of Chicago, to theft of innocence on a dare; from the breaking and entering of hearts to the obsessive twists of love, In and For the District of Desire updates the dark and bittersweet flavor of noir for today's reader.

It's free-range fiction with a punch; also a slap, a tickle and a kiss on the lips . . . you'll turn the pages as fast as you can, for the storyline—and the breeze.
"I have to say the stories are all pretty dark and disturbing. As I began reading, I couldn't help but be reminded of Rod Serling and "The Twilight Zone" series; all very dark and disturbing as well but somehow we (or I) kept watching and it lives on to this day."
-Early Reader Chris R.

If books had movie ratings, this one would be a capital 'R' with a small 'x.' Just the Rx to wash away the dull film of today's formula fiction.
[The] "last two stories really drew me in, and, as I noted, I was disappointed when they ended so soon. I was really impressed to see that they are excerpts from novels in progress; interesting characters and story lines, both leaving me wanting more, or at least, answers."
-Advance Reader Chris R.
LEARN MORE: Read reviews, summaries & excerpts
available now on AMAZON> In and for the district of Desire; Dark Stories from the Crimes-Of-The-Heart Beat
Or here for Barnes & Noble, Kobo & and other stores